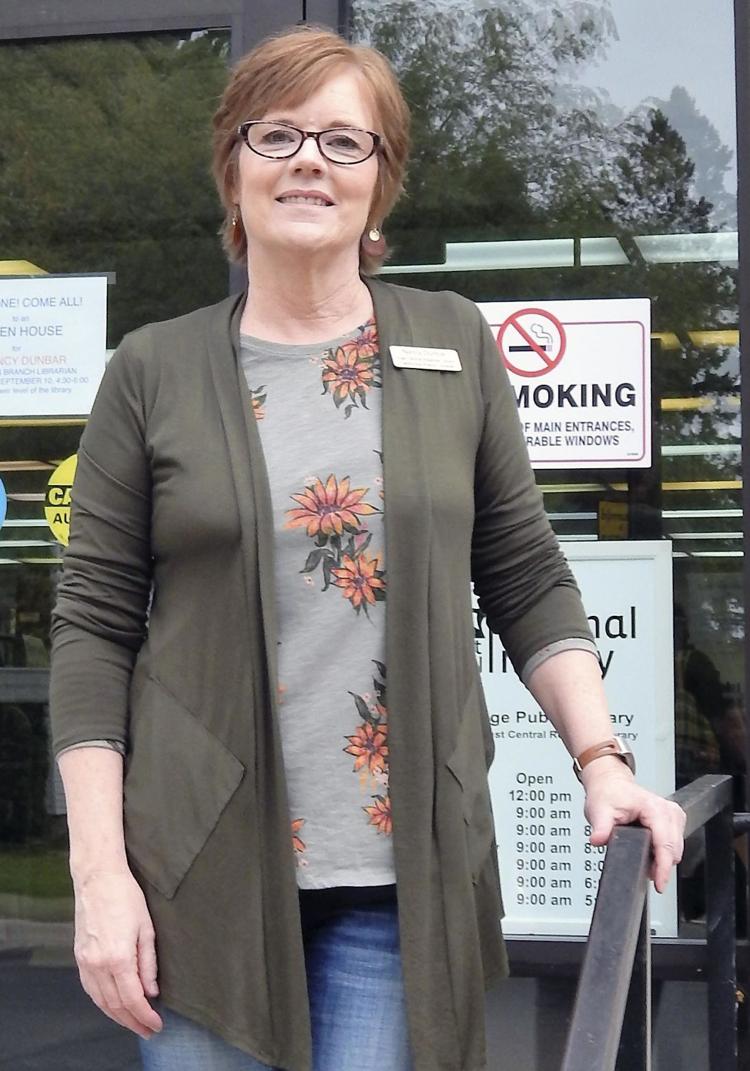 With every story there is a beginning, a middle and an end. For East Central Regional Library's Cambridge Branch Librarian, Nancy Dunbar, it's the close of one chapter and the beginning of the next – time to turn the page and read ahead to discover the new world of retirement. After almost 24 years serving the residents of Isanti County at the Cambridge Library, Dunbar has decided it's time.
Book One: The Introduction
Smitten with the written word, Dunbar's love of books came about when she was in high school. 
"You know, when I was younger I was outside from morning until night," she said. "That's the way it was back then. So it was in high school where I excelled in my English classes, and I loved writing. It was then I found my love of reading."  
The book that got her hooked was "David Copperfield" by Charles Dickens. 
"I cried when it was over," she recalled. "It was 900 pages, and I didn't want to be done with it – I wanted it go on." 
She got her introduction to library life right after college.  
"I started (at Cambridge Public Library) right after college," Dunbar said, "and worked here for about two and a half years. I spent half of it working at the desk and half of it as a reference assistant. Then I went into teaching for about 6-7 years." 
Bouncing around from Braham to Mora and then to Cambridge schools, Dunbar continued to fill in at the library during her teaching years. 
"When I was teaching, it was really important for me to teach writing skills," Dunbar said. "But you get like 160 papers back and when I had my first child I thought, 'I can be a good
mom or I can be a good teacher, but I don't know if I can do both.' I was passionate about teaching good writing skills, but you just have to wade through a lot of writing to give good feedback." 
She had a library licensure as a minor in college and went back and got her media specialist degree as a graduate program. Between those degrees and motherhood, she decided to close the chapter on teaching and pursue her love of the library.
She took on a full-time job as reference librarian for the East Central Regional Library's Cambridge branch in December of 1997. And her influence has continued on there ever since.
Book Two: The Library Years
There are many reasons Dunbar loves a good library, and it's evident that inspiring others to read, especially kids and teens, is in her very DNA. 
"Another reason I thought libraries were so important is because when I was teaching 11th and 12th graders," she said, "I could tell who were the ones that had been read to and which ones were not. Their papers were more interesting; they had a better vocabulary, and one of my main goals working here is about getting kids to love to read." 
In fact, one of her favorite parts about the job has been preschool Storytime. 
"Storytime is one of my favorite things," Dunbar said. "Getting them excited about reading, because reading is fun. And I love doing it. The kids are so sweet, and so I will miss that." 
Other things she says she'll miss are the various reading initiatives and programs such as Friends of the Library. 
"I am going to stay on the Reach Out and Read committee," she said. "I would also like to go into the schools from time to time to do some reading." 
Raising two boys has offered Dunbar the insight and inspiration to continue her work with children. 
"My son Aaron lives in Arizona, and my youngest son Evan lives here and works in Cambridge." 
It was while raising her boys with her husband that in 2009, Dunbar took on the role of Branch Librarian. However, shortly after accepting the position, her husband passed away unexpectedly. 
"Two days after I started here in 2009 as Branch Librarian, my husband died," Dunbar said. "I started in my new role on February 2nd and he died on the 4th. I was trying to wrap my head around a new job, and it was overwhelming." 
This job, she said, served as her distraction and something to focus on, getting her through some very difficult times.
Book Three: The Future
Dunbar will miss many things about her days at the library and time spent with the people who enter its doors. 
"I will miss all the wonderful people that I have met," she said, "the kids, of course, especially the little kids that come to Storytime. They're happy, so cute, and everything is fun to them. So I'll probably miss that the most. But I'll miss the Friends of the Library, all the committees I am on, just the people. I'll miss all of them and definitely my staff. They're like family." 
Aside from staying on the Reach Out and Read committee, Dunbar leaves all other duties to her new replacement, Kirsten Vaughan. 
"I don't think it would be fair to her if I stayed on all these things," Dunbar said. "She is very creative and great with programming. She's going to be a real plus for the community."
Not only will Dunbar miss the community of people she's developed relationships with over the years, but the community will miss her back. 
Lynda Woulfe, Cambridge city administrator, agrees with that sentiment. 
"Nancy has worked tirelessly to educate, inform and shape our community," Woulfe said. "She knows the importance of sharing the library with all people and the gift that literacy gives for a lifetime. I am sure she has instilled the love of books and reading into countless children and adults through the many programs she brought to the library. She will be deeply missed."
Dunbar's son Aaron echoes this legacy his mom will leave on the community. 
"She poured her heart and soul into working there," he said. "She would always get excited when everything came together. Sometimes practicing reading new stories for Storytime at home, causing nostalgia about spending time at the library as a kid. But I am very happy for her."
So what's next for Dunbar? 
"I plan on doing a little traveling," she said, "visiting my son out in Arizona and seeing the Grand Canyon. I am going to try quilting – my oldest sister is going to teach me. I've always wanted to make one. I'm also going to do some fixing up on my house." 
With newfound time on her hands and inspiration to take on new projects, Dunbar will always keep a special place in her heart for her local library. 
"It's the best deal in town," she said. "We have so many things, not just books. If someone wants to learn how to do Excel, we have a database. We have another one that is a universal class where you can take classes with online instructors. I took one on editing and proofreading, but you could take one on cake decorating or whatever. All you need is a library card. So what are you interested in? We have something for you."
Dunbar's last day is Friday, Sept. 13. Stop in and share your thanks and leave with a good book in hand – adventure awaiting at every turn of the page.