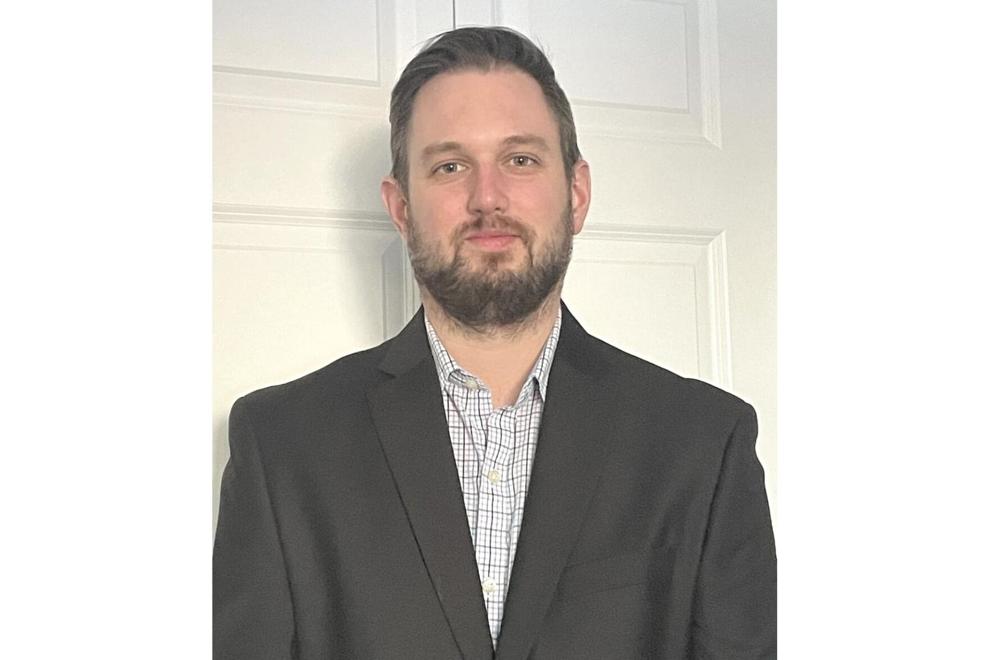 Some big shoes were filled last week as the board of North Branch Area Public Schools appointed a new member to fill the seat vacated in January by Kirby Ekstrom – board chair and member for over 20 years – when he moved out of the district. 
The appointee, Jesse LaValla, will serve out Ekstrom's term and be up for election in November.
 LaValla and his wife Mandi are 2007 graduates of North Branch Area High School who first met as students in Mrs. Streeter's fifth-grade class. 
"My grandparents and parents graduated from North Branch High as well," he said. "My roots are in North Branch. I applied for the school board seat because I genuinely have a passion for continued learning and a love for my community."
After graduation, LaValla obtained a bachelor's degree in Special Education from Anoka-Ramsey Community College in Cambridge through an association with Minnesota State University - Moorhead. He taught for a year or two, then earned a master's degree in Education from Hamline University, topping it off with a K-12 Principal License obtained in 2019. 
He is currently a special education teacher at Rum River East Special Education Cooperative in Cambridge. 
"I case-manage students who have qualified for special education services and work with a variety of students with exceptionalities and their families," LaValla said. "I am responsible for due processes, setting up annual Individual Education Program (IEP) meetings, and developing and implementing a social-emotional learning curriculum for the entire school."
Although happy with his current role, he said he would be interested in a leadership position in the future – possibly a dean of students, assistant principal or special education coordinator. 
THOUGHTS ON NORTH BRANCH SCHOOLS
LaValla believes one of the district's biggest challenges at the moment is implementing its education strategy during the pandemic. 
"I think we can all agree that our students have suffered and been robbed of different life events that we all took for granted before the COVID-19 pandemic," he said. "I truly believe that North Branch school district has done everything in its power to continue to provide the best of instruction for our students during this trying time." 
He believes the best way to move forward is through educating the educators.
"We should provide training to our educators and staff on a repeated basis," he said. "It is important to implement new strategies and learn through professional development," then keep expanding on the same strategies, not moving on to something unrelated, he added. 
LaValla said that navigating the pandemic will also be accomplished by working together as a community and district – not against each other – something NBAPS already does well. 
"It has been awhile since I have been a student of the North Branch schools," he said, "but I continue to see how the district supports the community. … I still talk to my peers that I have known since kindergarten. I think that truly goes to show how the leadership, teachers, and staff really understand the importance of creating a positive school culture." 
GOALS FOR THE ROLE
As LaValla joins board members Tim MacMillan, Sarah Grovender, Kevin Bollman, Tanya Giese and Heather Osagiede at their meetings on the second and fourth Thursdays of the month, he hopes to bring "collaboration and shared philosophies" with the board and Superintendent Sara Paul. 
"I am a pretty easy-going person," he said. "I believe that everyone is entitled to their own opinions. I am really big on empathy. You never know what others have gone or are going through and how they have formed their personal views. I am a big believer in agreeing to disagree and not letting it tarnish the relationship."
And just as he's maintained those relationships from kindergarten to today, LaValla wants to build new ones within the community as he serves its stakeholders as a school board member.
"I hope to be someone that the community can come to if they do not understand why the district implements certain ideas," he said. "I hope to bring the voice of the community."
LaValla can be reached with questions or concerns by email at jlavalla@rrsec.org or by Google voice at (612) 444-3621.
IN OTHER BUSINESS
•Superintendent Sara Paul honored school board members with a certificate for Minnesota School Board Recognition Week, Feb. 22-26.  
•Superintendent Paul reported K-8 students continue to attend school five days a week, and high school students will return to five days per week at the trimester transition. Distance Learning Academy also provides an option for K-12 students to learn from home. 
•It was reported that for the week of Feb. 1-7, NBAPS had one confirmed case of COVID-19 among students and none among staff, with only one of the student's "close contacts" occurring at school.
•According to Superintendent Paul, the district considers receiving the COVID-19 vaccine a personal choice, and it will not be required by NBAPS. 
•North Branch Area Education Foundation awarded over $10,000 in classroom grants to: Tracey Bowman, Mary Colvin, Pam Newbauer and Sara Schmidt.