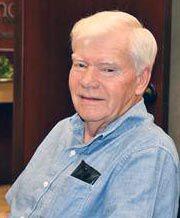 In recognition of his service and dedication, Minnco Credit Union has honored Marlin "Andy" Anderson as a Credit Union Builder through the Minnesota Credit Union Foundation (MnCUF). After nearly four decades of service to Minnco, Andy recently retired from the Board of Directors.
Andy has been actively involved in the success and growth of the credit union, including the construction, remodeling and expansion of all Minnco locations. He has attended over 500 meetings, numerous conferences, Network and chapter events, and he continually displays enthusiasm and leadership qualities in everything he does. 
"Andy's tenure and leadership has been admired and appreciated by fellow Board members, credit union staff and members of Minnco Credit Union," said Doug Hallstrom, President/CEO of Minnco Credit Union. 
Created in 2008, the Credit Union Builder Award honors an individual's dedication to the success, growth and vitality of the not-for-profit financial movement in Minnesota. Dedications are typically made at a special time of significance to acknowledge an individual's contributions to credit unions. 
In total, 64 individuals have been designated as Credit Union Builders over the past nine years. The names of the recipients and the contributing credit unions are permanently displayed in the Minnesota Credit Union Network's lobby as a tribute to those who have dedicated time and energy to building the credit union movement.