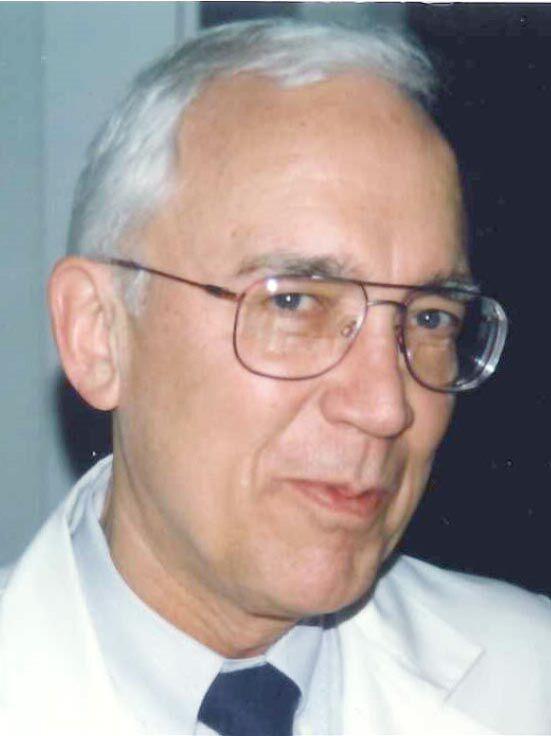 Dr. Alvin Emanuel Berglund (Bud), 89, of Cambridge died peacefully on August 7, 2020. We celebrate his heavenly home going.
Alvin was born in Cambridge, Minnesota, on November 7, 1930, at home, to Alvin E. Sr. and Thora (Sodergren) Berglund. He was the second of four children. At Cambridge High School, Bud became an Eagle Scout and a student athlete. Following his 1948 graduation from high school he attended Gustavus Adolphus College and the University of Minnesota, graduating from the University of Minnesota Medical School. He completed his internship at St. Luke's Hospital in Duluth prior to serving as a doctor in the army in Fort Riley, Kansas.
On August 1, 1952, Bud was united in marriage to his high school sweetheart, Ruth Raymetz. The Berglunds moved back to Cambridge in 1957 after Bud completed his education and military service. He used his gifts and talents in his hometown as a family practice physician and obstetrician- gynecologist for close to 40 years. He estimated he had delivered about 7,000 babies during his career.
Bud will be remembered as a calm, competent, caring, generous and steady source of support for all who knew him well. He loved to learn, and was skilled and knowledgeable in many areas. He had high standards yet remained self-effacing and modest. A commitment to honoring God was central to his life.
Despite a rigorous work schedule, he was an avid supporter of his family and friends. He cherished the time he spent with them. He was a devoted husband, father, grandfather, great- grandfather and friend. Among many church leadership roles, he led the Boy's Brigade program at First Baptist in the '60s and '70s. His life reflected his strong relationship with Jesus Christ.
Bud retired in May 1996 shifting his focus to even greater support of his family, church and friends. He faithfully attended his grandchildren's sporting and other school events. He helped with his Sunday School class and his treasured Bible studies. He enjoyed biking, tennis, racquetball and coffee with his buddies.
Bud is survived by his six children and their spouses; Greta (Jeff) Brynildson of Edina, MN, Peter (Linda) of Shoreview, MN, Karin (Tom) Mabee of Grimes, Iowa, Eric (Jacki) Berglund of Warren, MN, Chris (Susan) Berglund of Monument, Colorado, and Amy (Paul) Lindberg of Oakdale, MN; 17 grandchildren and their spouses; Alicia (Dan) Antal, Erica Brynildson, Karn Brynildson, Andrea (Patei) Iyegha, David (Alanna) Berglund, Tim (Angie) Mabee, Kate Mabee, Jessi (Luke) Johnson, Britta (Jordon) Johnson, Joshua (Sierra) Berglund, Tyler (Mirna) Berglund, Christopher (Jenna) Berglund, Kjirsten (Nic) Ugolini, Andrew (Stephanie) Berglund, Elysse (Michael) Brymer, Arianna (Levi) Miller, and Peter Lindberg; 30 great-grandchildren; one brother and his wife, Robert (Darlene) Berglund, Hudson, WI; many good friends, and a loving extended family. He was preceded in death by his wife, Ruth; sisters, Betty Wymore and Ruth Berglund and many friends and relatives.
A private family graveside service will be held at Cambridge Lutheran Cemetery. Memorials may be given to Talking Bibles or First Baptist Church of Cambridge. Condolences at www.carlsonlillemoen.com. Arrangements by Carlson-Lillemoen Funeral Home and Cremation Services of Cambridge.