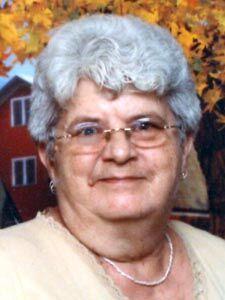 Barbara Lindgren, of Isanti, died on her birthday, Nov. 6, 2020 at her home. She was 77 years old.
Barbara Ann (Lemon) Lindgren was born Nov. 6, 1943, in Weston, Wisconsin to William and Viola (Scheel) Lemon. When Barb was in first grade the family moved to Menomonie, Wisconsin. In the late 1950's the family moved to Anoka, Minnesota where she finished her schooling. Barb married Monroe Lindgren on Dec. 8, 1962, at Zion Lutheran Church In Anoka. They made their home in Andover for 28 years before moving to Isanti in October, 1990. Besides the family gatherings she enjoyed playing games on the computer, doing word search puzzles and she made many wedding and birthday cakes for family and friends. 
She is survived by her husband, Monroe Lindgren of Isanti; five children, Wanda (Scott) Eide of Isanti, Kenneth Lindgren of Braham, Gerald  (Cheri) Lindgren of Blaine, Cynthia (Robert) Anderson of Zimmerman, Susanne (John) Whipple of Blaine; 15 grandchildren; 18 great-grandchildren; one sister, Nancy Cowden of Mora; and by many other relatives and friends. 
A memorial service will be held at a later date. Online condolences can be placed at StrikeLifeTributes.com.