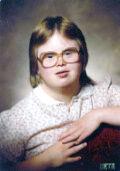 Beth Ann Peterson, of Bock, formerly of Cambridge and Braham, passed away on Friday, Nov. 13, 2020.  She was 59 years old.
Beth is survived by brothers, Daryl of Braham, Duane (Susan) of Minneapolis and Bruce (Lori) of Norwood Massachusetts.
A private graveside service will be held at the Rice Lake Cemetery in Braham. No public services will be held. In lieu of flowers, memorials are preferred to the Stanchfield Baptist Church or Industries, Inc. -a division of PHASE (601 S. Cleveland St. Cambridge, MN 55008). Arrangements are by the Rock Ingebrand Funeral Home of Braham. Condolences may be posted at www.aifuneralhome.com.