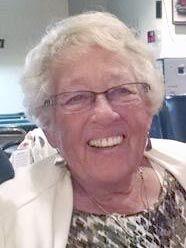 Cynthia B. Sikkink went home to The Lord Sunday, Jan. 10, 2021, at Comfort House in McAllen, Texas. She was 74 years old.
She was born on March 12, 1946, in Webster, South Dakota to Donald and Bernice (Holman) Boal. She spent her childhood and school years in Waubay, South Dakota. She was united in marriage to Dean Sikkink on Feb. 26, 1963, in Waubay. 
They lived in South Dakota, Georgia, Germany, and Colorado before settling in Cambridge, Minnesota for many years. Upon retirement, they moved to Alamo, Texas where they have lived for the past 15 years.
Cindy enjoyed spending summers on Blue Dog lake in Waubay, "Ain't nothin' like a Blue Dog sunset," and as soon as the weather started to change she couldn't wait to get back to the Texas warmth. She loved spending time with family and friends, playing cards, golfing, fishing, line dancing, and visiting while enjoying a beer during "Happy Hour".
She was preceded in death by her parents; daughter, Deana Sikkink; two sisters, Linda Boal and Janice Sikkink; and brother, Jeffrey Gerloff.
Cynthia is survived by her loving husband of 57 years, Dean; her son, Loren and Pam Sikkink of Cambridge, Minnesota; brother, Harold Boal of Rapid City, South Dakota; Grandchildren Mitchell Sikkink, Jamie (Jake) Sage; Step-grandchildren Brianna (Adam) Martins, George Balfanz Jr.; Great-grandchildren Brooklynn, Peyton, Maryn and Porter Martins, Parker Cynthia Sage; three sisters-in-law; two brothers-in-law; many nieces, nephews and very good friends.
Cremation took place at Memorial Cremation Center in Edinburg, Texas. A memorial service will be held at a later date in Minnesota.