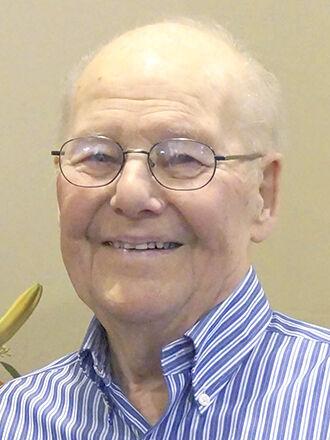 Harley H. Olson, of Princeton, passed away on Monday, Oct. 19, 2020 at Fairview Northland Hospital in Princeton. He was 94 years old.
He was born on the family farm on Oct. 8, 1926, to David and Ellen Olson. He grew up on the dairy farm, attended school at Karmel, and enlisted in the Army to serve in the Korean War. He was discharged in 1952 and married Yvonne Hanson that same year. He and Yvonne lived in South Minneapolis until moving to the farm near Princeton in 1957. His "new' farm was less than a mile from the house where he was born in 1926! Harley worked at Honeywell for 33 years before retiring in 1986. He kept busy on the farm with many hobbies while remaining active at Karmel Covenant Church and in the community. His faith was strong, steadfast, and he would say that he lived a very blessed life. He missed Yvonne terribly following her death in March of 2019.
He was preceded in death by his parents; wife Yvonne; infant sister Helen; sisters Marvel Lindquist, Arlene Selin; brothers Reynold, Vernon and Paul Olson; and son-in-law Gary Melin 
Harley is survived by his children Greg (Deb) Olson, daughter Denice Melin, daughter JaNahn (Andy) Barnhouse, daughter Tammy Olson, son Phil (Janell) Olson; 11 grandchildren, Sarah (Geoff) Johnson, Zach Melin, Alex (Ashley) Melin, Anna Melin, Matthew Melin, Aaron Barnhouse, Charlie Barnhouse, Sam Olson, Molly (Schyler) Abuhl, Jared Olson, and Seth Olson; four great-grandchildren, Keegan, Haley and Mackenzie Johnson, Katie Ann Melin; sister-in-law Carole Olson; and many nieces, nephews other relatives and friends.
Funeral Services will be held at 2p.m., Saturday, Nov. 14, 2020, at Karmel Covenant Church. Visitation will be one hour prior to the service at the church. Interment will be in the church cemetery with Military Honors. Condolences at www.carlsonlillemoen.com. Arrangements are with the Carlson-Lillemoen Funeral Home and Cremation Services of Cambridge.