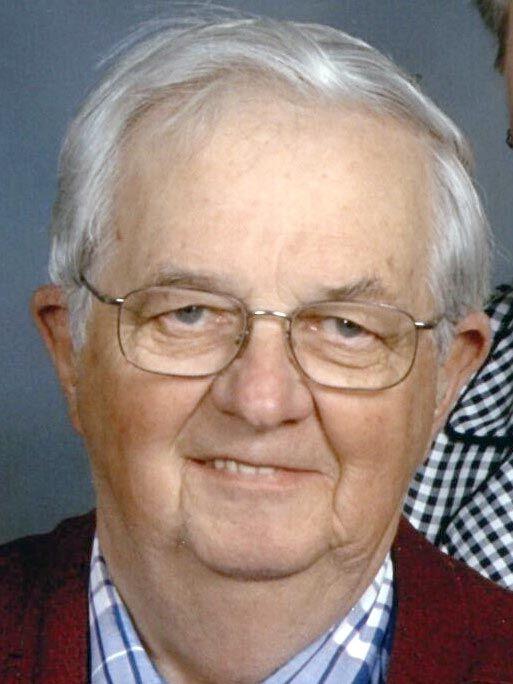 Jim Donahue, age 89 of Cambridge, died March 9, 2021, at GracePointe Crossing. He was 89 years old.
Howard James Donahue, better known as 'Jim' was born Feb. 17, 1932; a wavy haired, blue eyed boy to his parents, Wallace and Grace Donahue. Jim always spoke fondly of growing up on his family's farm as a child. While attending college, he met his wife, Marion. The two married and had two children, Tom and Patty. 
Jim was a man of many interests. He and his wife's love for gardening sparked an opening of their very own greenhouse business. He was also passionate about fishing, woodworking, trains, and had a hunger for continued learning. Jim passed on many of these interests to his two grandchildren who he enjoyed spending time with. If you knew Jim, you may have said his greatest passion was connecting with others. He had a real talent for sparking conversation with anyone who crossed his path and often left them with a piece of his famous humor. His sparkly eyes and sweet smile will surely be missed. We will forever cherish our memories of Jim - husband, father, grandfather, and friend. 
He was preceded in death by his parents; son, Tom; and two sisters, Virginia Anderson and Ruth Gregg. Jim is survived by his wife, Marion; daughter, Patty (Craig) Flanagan of North Branch; two grandchildren, Steven Hill of Cambridge, Becky (Paul) Manoppo of Duluth; and many other relatives and friends.  
A public visitation was held on Monday, March 15 from Noon - p.m., followed by a private Funeral Service at 2 p.m. at Strike Life Tributes in Cambridge. Online condolences can be placed at StrikeLifeTributes.com.