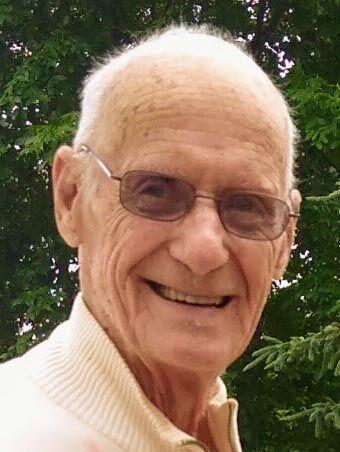 Merrill E. Grams (Buddy) of Cambridge, MN passed away on Feb. 9, 2021. He was 92 years old. 
Merrill was born on March 19, 1928, on the family farm near Zimmerman, MN (Now Grams Regional Park) to Henry and Minnie Grams along with his twin sister, Marian. 
Merrill and Helen Mae were married in Princeton, MN in 1949. Merrill's employment included Land O' Lakes, Green Acres Nursing Home, and self-employed painter. He carried out his passion by owning a hobby farm and caring for the animals. Merrill loved family, community, and church gatherings, attended grandchildren sporting events and school activities, and hobbies included being an avid racing fan at Princeton Speedway, auto shows, fishing, hunting, snowmobiling, playing cards, and cribbage. Merrill had been an active member of the Lutheran Church all his life. 
Merrill was preceded in death by his parents; brothers, Howard, Ken, Don; and his sisters, Dorothy (Heath), Marjorie (Smith), Marian (Nemeth), Harriet (Kish) and Joyce (Olene). 
Merrill is survived by his loving wife, Helen Mae (Mack) of 71 years; sister, Helen (Benson); sisters-in-law, Lou Grams, JoAnn Grams; five sons, Darrell (Pat), Randy (Melodee), Scott (Tara), Jeff (Tami), Joel; and 16 grandchildren, 24 great-grandchildren, plus three on the way.
A visitation will be on March 19, 2021, at Strike Life Tributes in Cambridge, MN from 5 - 7 p.m., with a private family service to follow. Online condolences and stories may be placed at StrikeLifeTributes.com. In lieu of flowers, any monetary gifts to the family will go to Children's Hospital, helping cancer patient families with financial needs.