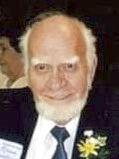 Millard "Augie" E. Augustson, of Cambridge died Nov. 1, 2020 at GracePointe Crossing The Gables. He was 91 years old.
 "Augie" was born Aug. 23, 1929, in Cambridge, Minnesota to Oscar and Annie (Hawkinson) Augustson. He was raised and attended school in Cambridge. Augie served his country in the US Army during the Korean Conflict. He had many difficulties that he overcame including the death of his father when he was 12 years old and his mother when he was 19 years old. After his service in the Army, he returned to Minnesota and met Sarah "Sally" Moore in Lindstrom. They lived in northern Minnesota for a time before moving to a farm in Almelund. Besides farming, Augie worked for Donovan Construction Co., was a milk truck driver for the Lindstrom Creamery, and was a mail carrier in Anoka.  
On July 17, 1970 he married his soul mate, Luana (Lindquist-Carlson) and they made their home in Circle Pines and then on Temperance Island in Ham Lake. They also lived in Anoka until retiring and moving to Pine Village in Cambridge. He always said Cambridge was the best place to live. Augie was an active member at Cambridge Lutheran Church where he loved to sing in the choir. He also loved playing guitar, deer hunting and traveling. They traveled often to spend time with family. They also wintered in Bouse, Arizona for many years where they made many friends. He was a faithful, hardworking man who will be dearly missed.  
Besides his parents he was preceded in death by a stillborn sister.
He is survived by his loving wife of 50 years, Luana; children, Charles (Linda) Augustson, Chester (Polly) Augustson, Shanda (Steve) Mau, Chris (Gayle) Augustson, Sheryl Augustson, and William (Pam) Augustson; step-children, Jean (Rollin) Goldsberry, Marleen (Neil) Misek, Ronald (Diana) Carlson, Kelly Carlson and Myron Carlson; by many grandchildren, great-grandchildren, other relatives and friends.    
A memorial service will be held at 1 p.m. Monday, Nov. 16 at Cambridge Lutheran Church. A time for visiting will be held one hour prior to the service at the church. Military Honors will be provided by Cambridge American Legion Post 290. Online condolences can be placed at StrikeLifeTributes.com.