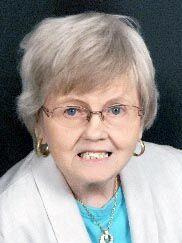 Ruth M. Ljungren, of Hutchinson, Minnesota, passed away Tuesday, Nov. 10, 2020, at the Ecumen Oaks in Hutchinson. She was 90 years old.
Ruth was born on Nov. 10, 1930, in Rice Lake, Wisconsin. She was the daughter of Pastor Claes Daniel and Signe Mathilda (Carlson) Mattson. Ruth was baptized as an infant at the Lutheran Church in Rice Lake, Wisconsin, and was later confirmed in her faith as a youth in Burdick, Kansas. Her school years were spent in Bergland, Ontario and Burdick, Kansas. In school, Ruth played and taught piano and organ to make money.  She went to Bethany College in Kansas and graduated with a teaching degree from Bemidji State Teachers College in 1952. She taught elementary school in Walker, Thief River Falls, and Alexandria Minnesota. 
 While Ruth's parents were in Sebeka, Minnesota, they encouraged her to date the pharmacist son of one of the church members. On Dec. 27, 1959, Ruth was united in marriage to Donald Ljungren at Calvary Lutheran Church in Alexandria, Minnesota. As was typical of the time, Ruth gave up teaching when she married Don to have children. This marriage was blessed with two children, Wendy and Mark. Ruth and Don resided in White Bear Lake and then Cambridge, Minnesota. After the kids graduated, Ruth returned to teach pre-school at Cambridge Lutheran. After Don retired from pharmacy, they became snowbirds in Sun City Arizona (near daughter Wendy). 
Throughout her life, Ruth was an avid volunteer and an active member of the Lutheran churches. Due to health issues, Ruth and Don moved into an assisted living facility in Hutchinson, Minnesota in 2012 to be near son Mark's family. They shared 60 years of marriage.
 Ruth enjoyed traveling, walking, music and in retirement golfing. She especially enjoyed spending time with her family, grandchildren and friends.
Ruth is preceded in death by her parents, Claes and Signe Mattson; Brother, Rev. Richard and his wife Anna Mattson; and Son-In-Law, Terence Mulkern.
She is survived by her husband, Donald; children, Wendy Ljungren-Mulkern of Kentwood, MI, Mark Ljungren and his wife, Robin, of Hutchinson, MN; grandchildren, Alexander (Clarissa) Ljungren, Zachary (Rebecca) Ljungren, Melanie (Reid) McGraw, Ciaran Mulkern, and James Mulkern; great grandchildren Maxton Ljungren, Oaklyn McGraw, and Hadley McGraw; brother Paul Mattson and his wife, DeLores, of Lakeville, MN; and many other relatives and friends.
Memorial Services were held on Saturday, Nov. 14, 2020, at Christ The King Lutheran Church in Hutchinson with interment in the West Cemetery in Sebeka, Minnesota, at a later date. Arrangements by the Dobratz-Hantge Chapels in Hutchinson. Online Obituaries and Guest Book available at www.hantge.com.