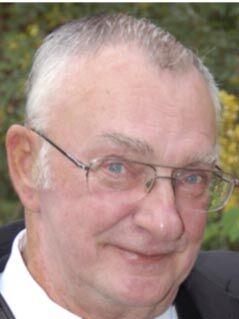 Thomas Lee Lentz, 74, , formerly of Milford Township, New Ulm, MN., died August 12, 2020, at his home in Stacy, MN.
Tom was born on May 27, 1946, to Wallace and Edna (Larson) Lentz. He attended elementary school at District 14 in Milford Township and graduated from New Ulm High School in 1964.
He was married to Kathryn Ballard in Nov. 1965, and they farmed in Milford Township for over 25 years. In 1986, Tom and Kathy embarked on separate paths before remarrying in August 1989. After selling the farm, Tom became an over the road truck driver and shared many adventures on the open road with friend and trucking colleague Eric Hjelter before retiring in 2008. In addition to Milford Township, Tom and Kathy lived in Hutchinson, Minneapolis and Stacy, MN.
The years living in Milford Township were full of hard work but also shenanigans that only Tom and his partners in crime, Carl Rolloff, Fred Juni, Dave Bessemer and David Juni could cook up. If you saw one, the others were not far behind.
Tom's greatest joy in life was watching his daughters and grandchildren grow, and become happy and successful in their lives. He also loved being a mentor to his sons-in-law Wayne Zins and Tim Mattsson.
He received immense pleasure from being in the outdoors: Spring fishing trips with his nephew, Jeff Edwards; annual spear fishing trips to Northern Minnesota with his brother Rick and his brother-in-law Ken Ballard; and annual deer hunts in the woods on his property in Stacy with brother-in-law Ken Ballard.
He was a member of the Pokegama Lake Association and every Spring he was a part of the weed cutting crew that took great pains to rid the lake of weeds. His greatest accomplishment, at age 71, was to build a double car garage for his daughter Linnea at her lake home.
Tom is survived by his wife, Kathy; his daughter Linnea Lentz and her husband Tim Mattsson; his grandchildren MaryBeth Zins and her husband Tyler Rablin; and Ben (Anne) Zontelli Zins; his sister Joan (Daun) Harris; and his brother Rick Lentz and significant other Lori McDermott.
Preceding him in death were his daughter Deborah Zins; his parents Wallace and Edna Lentz; and his sister Mary Lentz.
Crescent Tide Cremation Services in St. Paul is working with the family on final arrangements. Due to the Coronavirus pandemic there will be no service. The family will have a celebration of life at a later date. Memorials can be sent to St. Croix Hospice, North Branch, MN. or Family Pathways, North Branch, MN.