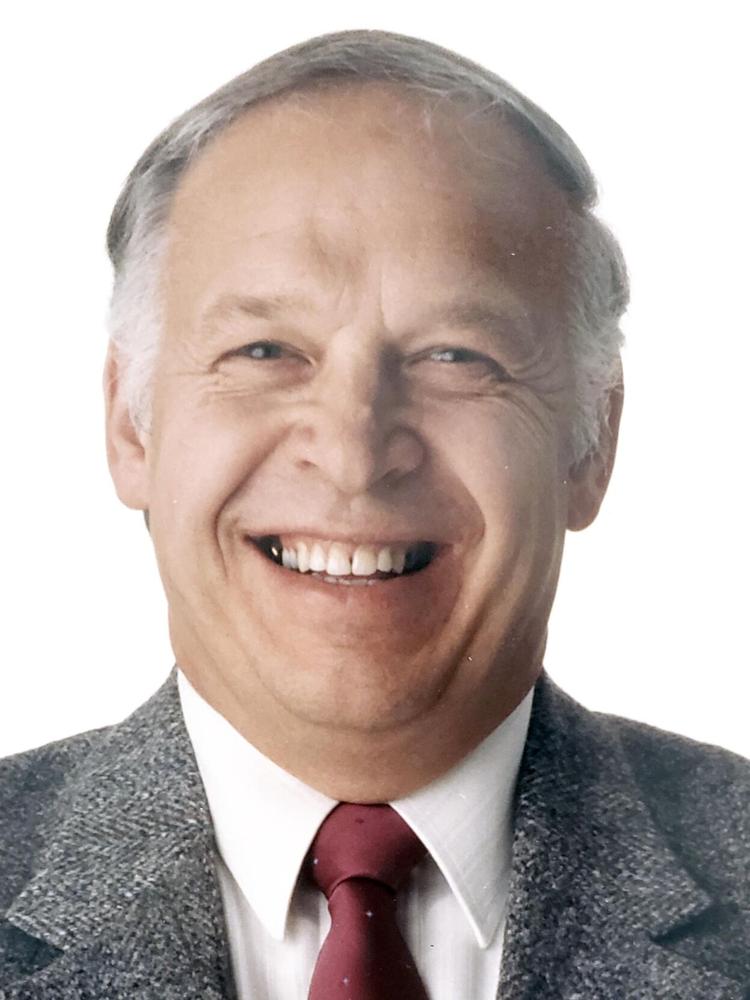 Wilbur W. Reichel, 88, was called home by his Savior.
Will was born Aug. 16, 1931, to Walter and Violet (Lindell) Reichel. He grew up in Isanti County being the second youngest of seven kids. He stayed here until he was drafted during the Korean War. At that time he was sent to Panama where he served his country honorably guarding the Panama Canal. He never spoke much about his time in the Army other than to say his faith and prayer sustained him. It was quite the culture shock for him to go from the family farm to the jungles of Panama.
He was one day short of his 89th birthday when he entered heaven to be reunited with his wife Lorraine, who he missed so much. Will and Lorraine were united in marriage in 1955 and were inseparable until her passing in 2013. During their marriage they had three children; Brad, Mark and Brenda. Dad worked long hours at the grocery store he owned for 40 years, and dedicated himself to providing a wonderful life for his family. He raised his family on a hobby farm, where he was able to enjoy his passion for his horses. He had many horses over the years and being out in the barn was a way for him to unwind. To him, tending to his horses was never work. His love of horses led him to collecting buggies, carriages and sleighs. Being able to restore them to their former glory was relaxing to him no matter how much work was involved in the process.
As the years went on he saw his children get married. Brad married Sandy and blessed our family with three children; Kevin, Jeni and Adam. Mark married Leanne and blessed our family with three children as well; Jeff, Carolyn and Greg. Brenda married Dale Oelrich and they got three bonus step-grandkids; Devin, Dan and Savannah. In later years, Brad met and is engaged to Bev.
He loved watching his grandchildren play and grow. They spent a lot of time growing up at grandma and grandpa's house. From eating chocolate chip cookies and running around outside, to the annual New Years Eve sleepover. There are so many wonderful memories that we will always have.
In addition to his three kids and nine grandkids, he was thrilled to have yet another generation of children born into his family, his nine great-grandchildren. Carolyn's daughter Ryley Jo, Jeni's son Bennett, Greg and Christina's daughter Layla, Kevin and Chrysa's son Will, and Devin and Sarah's kids Isaac, Raelynn, Corbin and River, and Brad and Bev's grand daughter Alexis. He was so honored to have "little Will" named after him. He was blessed to see Adam marry Jessica, and Jeff get engaged to Samantha. He once said that life would have been really dull without all of us kids in it.
His faith was very important to him his entire life, as it was to his parents. He was introduced to his wife by a youth pastor the both separately knew. Together during their marriage they made sure their kids had a foundation in faith and understood God's love for them. He loved music and would listen to gospel music every day. It was his favorite way to fall asleep, listening to his cd's until he drifted off every night.
He felt truly blessed that he was able to live out his days in the home he built with Lorraine for their family. Surrounded by family members every day and watching cartoons with Bennett on his lap.
Will was proceeded in entering Heaven by his parents, his wife, his brothers Wallace, Vernard, and Robert, as well as his sisters Elenore and Dorothy, their spouses, and his brother-in-law Don.
Will is survived by his children; Brad (Bev), Mark (Leanne) and Brenda (Dale); his grandchildren Kevin (Chrysa), Jennifer, Adam (Jess), Jeff (Samantha), Carolyn, Greg (Christina), Devin (Sarah), Daniel (Jacki), and Savannah (Steven); great grandchildren Ryley, Bennett, Layla, Will, Alexis, Isaac, Raelynn, Corbin, and River; his sister Lucy King; sister-in-law Marilyn Person; many nieces, nephews and cousins.
A private service will be held at Fort Snelling.
His legacy of faith and love of family will endure forever.