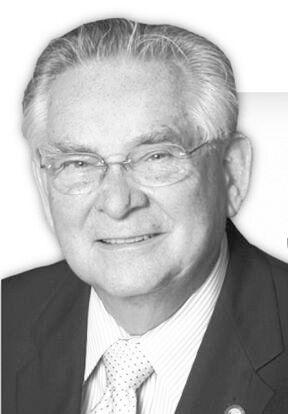 CANCER IS A dreaded word for anyone alive today. Every family seems to have someone being treated or has died from the "big C." It's scary, but there are a lot of tests that can be done to catch it and treat it at an early stage.
October is Breast Cancer Awareness month. Many women put off being tested during the pandemic. Don't put that off any longer. Hospitals and clinics are now open. I encourage you to get back on schedule with the screening beginning at age 40.
Men, it's time to have a blood test to get a reading on your PSA if you are 40 or older. No man has to die from prostate cancer, but you can't ignore it.
Statistics show that if you are 50 years old, there is a 50% chance you will have it. If you are 60, there is a 60% chance, etc. Immunity is rare.
Both Kathy and I are cancer survivors. We are very thankful for research and the treatments available here in the Midwest. That's firsthand experience.
Medical care also is required periodically in the area of dental and complete physical exams.  Be alert to your family history and any symptoms you might be experiencing.
FROM THE OLD Farmer's 2020 Almanac, compliments of Boys Town, comes a weather proverb for October: Much rain in October, much wind in December. For every fog in October, a snow in the winter. Full moon in October without frost, no frost until full moon in November.
THE FALL AND Winter edition of the old Farmer's Almanac tells us the origin of Halloween.
As with many holidays, Halloween is rooted in our agricultural past, marking the end of harvest time and the beginning of the new year.
The origin of Halloween and many of its customs can be traced to Samhain, an ancient pagan Celtic festival that is Gaelic for "summer's end," a day to bid goodbye to warmth and light. The ancient Celts believed that the veil between the worlds of the living and the dead was at its thinnest during Samhain, thereby making it the ideal time to communicate with the deceased and to divine the future.
Following the triumph of the Roman Empire over Celt-occupied lands in the 1st century A.D., the Romans combined many of the Celtic traditions, including Samhain, with their own. This day evolved into All Hallows' Day or Allhallowmas, "hallow" meaning "to sanctify."
BE CAUTIOUS IF you are allowing your children to go trick-or- treating.
Be sure they wear a protective mask. Also, hand the children wrapped candy rather than having them reach into your container.
THE PANDEMIC WE are in with this dangerous virus means we need to continue healthy and safe practices.
Use a mask whenever you are in public places or visiting with people where you don't have open air and adequate space between you.
Wash your hands often and have a safe work environment with good air flow, separation of work areas, avoid crowds and work from home whenever it's possible.
If driving with people in the car other than your family, have them wear a mask and crack open a couple windows.
Choose restaurants that have adequate space between tables and good ventilation. More and more offices are putting in air exchange units with good filtering.
Whenever possible, avoid meetings in person. Rather, use the phone, FaceTime or Zoom. 
If you have college kids and they test positive for the virus, have them quarantine at college.
A GOOD FALL harvest of soybeans and corn is projected for our area of newspaper readers in Minnesota and Wisconsin. A good reason to be thankful.
THANK YOU SUBSCRIBERS to this paper. Your support is more important than ever. Thank you to our loyal advertisers, too. Our staffs are working extra hard, too.
GENE JOHNSONis Publisher Emeritus of Press Publications, owner of the Isanti-Chisago County Star. He can be reached at ppinfo@presspubs.com.