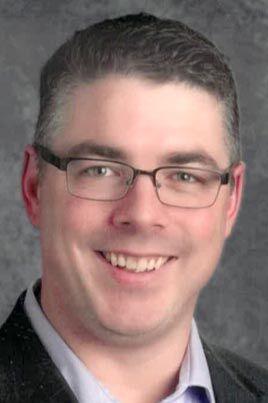 Like many when they're young, I was eager to move away and take on the world. "You Don't Know What You Got (Till It's Gone)" – not only a great 80's hit, but a realization I had after I left. Following college, I lived in Minneapolis where I worked in investment management and attended grad school. My wife and I are both Cambridge-Isanti graduates, and we agreed very quickly that this is where we wanted to raise our family. We moved back eight years ago, because this is home, and I want my children to grow up with the values that our community holds. I believe in individual liberty, personal accountability, and fiscal responsibility.
After watching our school district cut $4.5 million from the budget in 2019, I started paying attention. When the Director of Finance and Operations position opened later that summer, I thought my background in financial management could help. I took the job knowing that the District's financial troubles weren't going away. 
What I found was that Minnesota's school finance system is broken, and our district's financial situation is disadvantaged by many factors. The Department of Education even has a state work-group studying the problems and disparities in the funding system that negatively impact rural districts. Like many similar districts, we had a healthy fund balance before 2010. As legislative priorities in the early part of the decade shifted toward Metro districts, rural districts had to turn to their fund balance in order to maintain the level of academic programming our community had come to know and expect. At the end of 2019, we had two-weeks of payroll in the bank.
There are many factors that led us to where we are today; but the fact is that Cambridge-Isanti Schools receives less general education revenue per student than 90% of other school districts in Minnesota. Even within our own conference, we rank last in per-student funding. The main driver is that we lack a voter-approved operating referendum. Two-thirds of Minnesota school districts have one, but we do not. As a result, we are more dependent on the Legislature in Saint Paul to support our school district, and Saint Paul is not a reliable partner. The state is facing a $4.7 billion deficit and we believe this will mean funding shortages across the state.
I am generally not in favor of tax increases. The spending by our state and federal governments only continue to grow as the needs of the common taxpayer are set aside. However, I also know firsthand what failing to pass the operating referendum means for our school district. 
At our last school board meeting, we were asked to outline some actions that will be required without the additional referendum funding. We will face a third year of budget cuts. Our class sizes, which are already approaching 30 at the elementary level and 39 at the high school level, will continue to grow. Bus rides will get longer, and some routes within two miles of school could be cut altogether. Elective classes and activities will be reduced. We will soon hit a point, if we haven't already, where there is no more to cut. Continuing budget cuts will not be sustainable, and without an increase in funding, we may need to consider statutory operating debt, which is bankruptcy for school districts. 
Strong school districts equal strong communities, and we have a strong community. That's not by accident. Many of us are alumni and graduated from a well-funded school district that offered great academic, arts, and athletic opportunities. After $7.5 million in budget cuts over the last two years, the elimination of 90 jobs, and ranking near the bottom in general education revenue per student, we can no longer deliver the same level of excellence our community has come to expect. 
If the operating referendum is approved, it will allow us to strategically reduce class sizes, maintain our technical and career-focused programs, and partner with local businesses to enhance our career and technical apprenticeships. It also means that we'll unlock a $103 per student in a state subsidy that offsets part of the local tax.
Our schools belong to our community, and it will be up to our community to decide the district's future. Superintendent Nate Rudolph and I have spent countless hours meeting with local citizens, identifying what's important to our community, and making recommendations based upon that input. To build on that work, we are starting a Citizen's Finance Advisory Committee to increase transparency and communications into the budget and financial management processes. If you'd like to join, please go to http://bit.ly/CIS-CFACapp. If you have questions about our budget, please call me at 763-689-6205 or visit c-ischools.org/budget.
We are all in this together.
CHRIS KAMPA is director of finance for Cambridge-Isanti Schools. He can be reached at 763-689-6205 or ckampa@c-ischools.org.