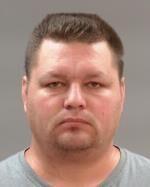 The lone suspect in the death of Amanda Jo Vangrinsven, whose body was discovered on Tuesday, Aug. 10 after being reported missing for five days, has been formally charged with 2nd degree murder - with intent - not premeditated.
According to the official court record, Richard Melvin Peterson, II, date-of-birth of 04/11/1984, was charged with the lone felony count Thursday morning, Aug. 19. 
Peterson will be held in the Isanti County Jail pending the posting of bail, which was set at $3 million without conditions or $1 million with the conditions Peterson does not leave Minnesota without written court approval, does not ship/transport/possess or receive firearms or ammo, no alcohol/controlled substance use, no contact with the victim's family, he does not enter bars or liquor stores, no use or possession of firearms or dangerous weapons, no possession of alcohol or drugs, he is subject to GPS monitoring, he remain law-abiding, he makes all future court appearances, and he submits to initial/base UA.
Peterson's next court appearance is scheduled for Sept. 1, 2021, where he may enter his plea on the charge.