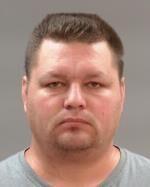 One week after discovering the body of 32-year-old Amanda Jo Vangrinsven, who was reported missing on Aug. 6 prompting a five-day search of the area, the person who was reportedly last seen with her has been arrested.
According to a dual press release by the Isanti County Sheriff's Office and Isanti Police Department, detectives from both departments placed 37-year-old Richard Melvin Peterson under arrest and booked him into the Isanti County Adult Detention Center on a Probable Cause Murder hold.
According to a search warrant obtained by multiple Twin Cities news stations, her body was found partially buried on a property owned by Peterson. Preliminary examination indicated a "projectile consistent with a bullet" in her skull.
Initial interviews with Peterson were riddled with "inconsistencies" in his story, one of which was his claim he dropped her back off at the Isanti VFW after leaving the Dugout Bar and Grill in Bethel.
Peterson is being held at the Isanti County Jail pending formally being charged, which should take place sometime on Thursday, Aug. 18.