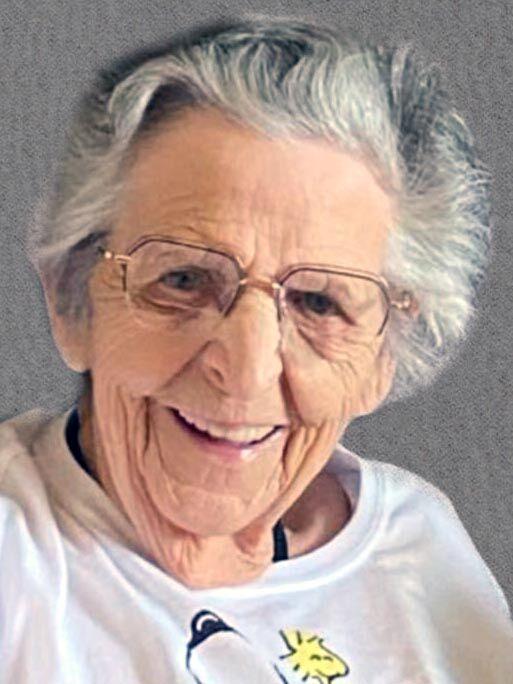 Alice May Cripps passed away on Friday, Sept. 3, 2021, at Elmhurst Commons in Braham. She was 96 years old. 
Alice was born to Alfred and Carrie (Boyd) Olson on Aug. 12, 1925, at Graceville Community Hospital, Graceville, MN. Her younger years were spent on the Olson homestead near Browns Valley, MN. For her early education, she rode a horse to Long Hollow Union Country School, a one room schoolhouse.
At the age of 12, she started trick riding at various rodeos in the west to support herself. Her riding career ended when she was seriously injured performing in Hatton, North Dakota. Following several months of recovery at the Mayo Clinic, she returned to school at the age of 17. Alice attended the West Central Agricultural School in Morris, Minnesota which is now part of the University of MN system.
World War II found Alice working for Telex making telecommunication equipment for the war. Her career in electronics would continue at Buckbee-Mears where she worked on quality control projects including some work on the Lunar Lander. 
Alice always said that her greatest accomplishment in life was raising her five daughters. Alice spent her free time fishing, gardening and reading. Alice especially liked the things that money cannot buy - the song of the birds, flowers and the hugs of a grand or great-grandchild.
She was preceded in death by her parents; sisters and brothers, Louise, Cliff, Josephine, Milton "Mickey" and Alfred Jr. "Jim"; three husbands, Walter Jamma, William Bade, and Walter Cripps; son Kenneth; daughter Valerie Demitroff; and two sons-in law, Douglas Walters and William Payne. 
Alice is survived by daughters, Karyn (Robert) Prois Blaine MN, Patricia (Karl) Larson Kingman AZ, Claudia Payne Spokane WA, and Jonelle (Daniel) Klemz Grasston MN; son-in-law Mike Demitroff Hinckley MN; 10 grandchildren and 19 great-grandchildren; as well as many other relatives and friends.
A celebration of Alice's life will be held from 2-4 p.m. on Sunday, Sept. 19, 2021, at the Braham Event Center. A time of remembrance will be held at 3 p.m. with Rev. Julie Beck officiating. The family requests that masks be worn by those attending the services for Alice. Inurnment will be in the MN State Veterans Cemetery at Little Falls. Arrangements are by the Rock Ingebrand Funeral Home of Braham. Condolences may be posted at www.aifuneralhome.com.