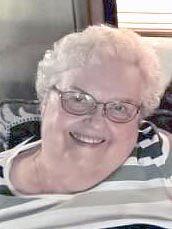 Carol J. Roggemann, age 85, of Cambridge died Jan. 10, 2022 at GracePointe Crossing – The Gables.  
Carol Jean Roggemann was born April 24, 1936, in Minneapolis to Rolf and Manette (Rapke) Hartig. She graduated from North High School in 1954. On July 1, 1961, Carol married Anton "Tony" Roggemann in North Minneapolis. They raised their four children in Scandia, where they lived for 50 years.  Besides raising a family, Carol worked as a proofreader for the Scandia Messenger for several years. They made their home in Cambridge for the last 10 years. Carol loved crappie fishing. She also loved raising dogs, especially German Shepherds. Carol was also a good baker and was proud of her gardening and canning. She placed her trust in God and lived a faith filled life. Carol was a beautiful person inside and out, and will be dearly missed by her family.  
She is survived by her husband, Tony; children, Dan Roggemann, Mike (Leanne) Roggemann, Anton Jr. (Lisa) Roggemann, and Liz (Richard) Brown; 8 grandchildren, Cassie (Morgan), Lisa (Chad), John (Rachel), Kevin (Melissa), Jared, Matthew, Nikki (Jacob), and Nathan (Kayla); 9 great-grandchildren and one on the way; and by many other relatives and friends. Besides her parents, she was preceded in death by a granddaughter, Alanna, and sister, Gloria Voskuil.  
A funeral service will be at 2:30 p.m. Thursday, Jan. 13, at Strike Life Tributes in Cambridge with a visitation one hour prior. Interment will be inFort Snelling National Cemetery. Online condolences can be made at StrikeLifeTributes.com.