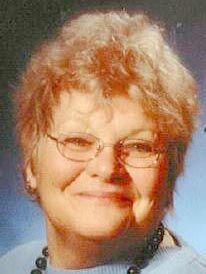 Elizabeth "Ann" Bestick, of Stanchfield, MN passed away in her sleep on Sunday, Sept. 12, 2021, at her home on Rush Lake. She was 79 years old. 
She was born on Nov. 17, 1941, in Ottumwa, IA, to LeRoy and Irene Thomas. She graduated from Ottumwa High School in 1959. Ann was united in marriage to Thomas Bestick, in August, 1968. They were blessed with two sons, Craig and Mark. They moved to Minnesota and made homes in Prior Lake, Braham, and settled on Rush Lake in Stanchfield. 
Following their move to Braham, Ann was employed by the Braham School District as a secretary at Grasston, Braham Elementary, Middle and High Schools. During her 32 years with the district, she connected with many children and teenagers and made lifelong friendships with her coworkers.
Ann's many hobbies included stamping, beading, crocheting, stain glass, and collecting Longaberger baskets. She especially loved traveling and going on car rides with her husband, watching her children and grandchildrens' sporting events, and decorating for Christmas. Ann could spend hours just looking at the lake.
She was preceded in death by her father and mother; father-in-law and mother in-law, Vince and Florence Bestick; and brothers-in-law, Joe Baker and David Himes.
Ann is survived by her husband, Tom; son Craig (Mary) from Pine City, and son Mark (Dawn) from Buffalo; grandchildren, Tyler, Derek, Cameron, Stephanie, Samantha, Nathan, and Preston; great grandchildren, Evelyn, Lucy, Kyle, Ethan, Garrett, Cale, Addison, Mackenzie, and a great grandchild due in March 2022; sisters, Karlene Baker from Houston, TX and Susan Himes from Bettendorf, IA; and many nieces and nephews.
The family would like to thank Ann's dear friends Mary Kay and Terry Bodeen, who were a blessing during her illness, and the Cambridge Allina Hospice for their compassion during her last few months.
A Memorial Service will be held at 11 a.m. on Friday, Sept. 17, 2021, at Christ the King Catholic Church in Cambridge with Fr. Wagner presiding. Memorial Visitation will be held one hour prior to the service at the church. Arrangements are by the Rock-Ingebrand Funeral Home of Braham. Condolences may be posted at www.aifuneralhome.com.