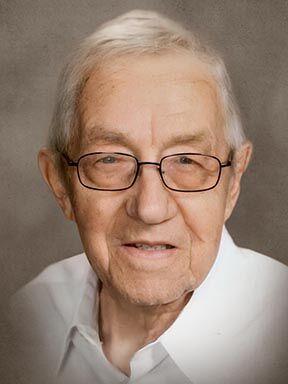 Emery William Sumption, age 97, passed away peacefully in the late afternoon on Nov. 13, 2021, at GracePointe Assisted living in Cambridge.
He was born Sept. 22, 1924, to Howard and Annie Sumption in Ruthton, Pipestone County. He was baptized Nov. 10, 1924, at the Lutheran Church in Ruthton. He was confirmed on June 5, 1938, by Pastor Stanton.
Emery went to school in Ruthton for 9 years. He left school to work on the farm until he was inducted into the United States Army on Jan. 15, 1945. He trained at Camp Hood, Texas, and then was sent overseas to the Mindanao in the Philippine Islands.  He moved on to Japan at the end of World War II.
Returning home after the Army, Emery worked at the Farmers Elevator in Ruthton.
He married Arlene Stephenson on Sept. 26, 1947, in Sioux Falls, South Dakota, by Pastor Stanton.
After they were married, they moved to Montgomery.  Emery started driving truck for Kelly Transportation and drove for about three years.  
In 1950, Emery and Arlene started the Rainbow Café in Hardwick and within a year they sold it and moved to St. Paul, where Emery was employed at Woldorf Paper Co. In May of 1952, Emery started working for Indianhead Truck Lines. He retired on Oct. 11, 1986, at the age of 62.
Emery and Arlene adopted their son Stephen in 1956 and their daughter Dianne in 1959. They moved to Cambridge on Feb. 28, 1962, when Emery bought 80 acres for $8,000. He lived on his farm until he was 93, moving into a condo in Cambridge at 94 and finally moving into GracePointe Assisted Living.
In 1996, he traveled to Romania with his daughter-in-law Carole to assist with the adoption of his Granddaughter Florina "Lorin" Sumption.
Emery is survived by his children, Stephen (Carole) Sumption of Denver, and Dianne Hubbell of Cambridge; granchildren Florina "Lorin" Sumption, and Ashley and Adalynn Hubbell; and two great-grandchildren, Lilly and Trevelle. He is also survived by his brother Russell (Mary Ann) Sumption.
He was preceded in death by his wife, Arlene, and seven brothers and sisters.
A memorial service will be at 11 a.m. Friday, Dec. 3, at Cambridge Lutheran Church, 621 Old N. Main Street, Cambridge. Friends may gather one hour prior to service at the church. Private interment will be at Cambridge Lutheran Cemetery.
Memorials preferred to the Cambridge Lutheran Church in lieu of flowers. Arrangements by Carlson-Lillemoen Funeral Home, 763-689-2244.