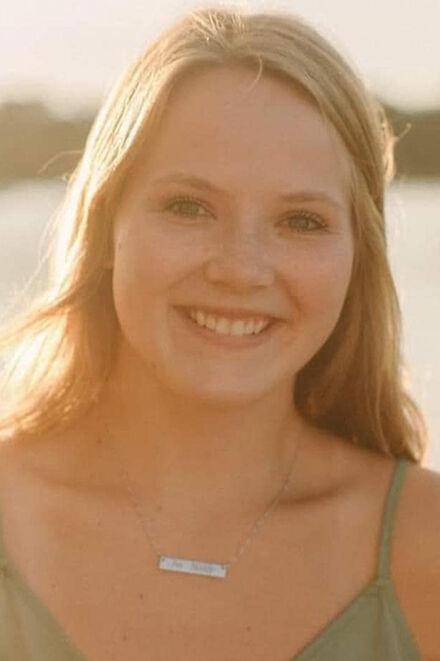 Faith Lee Nelson, 21, of Cambridge, MN died tragically on Sunday, Jan. 1, 2023.  Faith was born in Cambridge, Minnesota on Sept.24, 2001 to Scott and Karen Nelson. 
Faith was currently attending the University of Wisconsin-Eau Claire, where she was a junior majoring in Business Administration-Entrepreneurship, and minoring in Art with an emphasis in Ceramics.  She was a thriving student who truly enjoyed all of what college life provided.
Faith graduated from Cambridge-Isanti High School in 2020 and actively participated in high school softball and volleyball.  She was a leader and the most encouraging to all her teammates, and had the utmost respect and love for her volleyball coaches.  According to her coach, Colin Dickey, "she was such a bright light, and when she was on the court she played with such passion and heart that it was contagious. Her smile lit up every room she walked into and her laugh was infectious".  All of which was true.
She was a talented potter, learning most of her skills from her high school teacher and mentor, Jessica Miller, who she completely adored with all her heart.  Faith loved everything that had to do with pottery and dreamed of opening a pottery business after graduating from college.  
Faith had a beautiful smile and a warm presence about her.  She was the pure definition of joy, kindness, and compassion, with an unbelievable giving heart.  Faith was the daughter that everyone wanted, the sweetest, nicest, and most loyal of friends, and had an amazing love for animals (especially her cat, Phil, and her black lab pups, Finch, Rhett and Sprig).
Faith's true love was for that of her family, and she enjoyed many traveling adventures with them.  She loved hiking in Alaska, Colorado and Montana, and collecting rocks along the way - specifically heart rocks.  When she was little, she'd often fall behind while hiking because she couldn't stop looking for rocks and by the time she'd catch up, her sweatshirt would be fully loaded.  She loved camping, hunting with her dad, brother, and twin sister, searching for deer antlers in North Dakota, and simply having fun.  Faith loved life and lived it to the fullest. 
Faith will be forever missed by her loving parents, Scott and Karen Nelson; brother Luke Nelson; twin sister Chloe Nelson; grandparents Douglas and Carole Larson of Isanti; Aunts and Uncles Brian (Lisa) Nelson of Big Lake, Rick (Sheila) Nelson of Harris, Dawn (Alan) Hanson of Cambridge, Terry (Kelly) Nelson of Cambridge, DeeAnn (Jeremy) Kuznia of Cambridge, Mark Larson of Isanti and many cousins and other relatives and friends.
Faith was preceded in death by her sister Madison "Maddy" Nelson, grandparents Donald and Sandy Nelson, and special friend Hunter E. Melander.
In lieu of flowers, memorials are preferred to The Maddy Nelson Memorial Foundation.
Funeral Service will be held 2 p.m., Saturday, Jan.14, 2023 at Cambridge Lutheran Church. Visitation will be held on Friday, Jan. 13, 2023 from 4-8 p.m. at Cambridge Lutheran Church and one hour prior to the service. Funeral Service will be live streamed on the Cambridge Lutheran Church YouTube and Facebook page. Condolences at www.carlsonlillemoen.com. Arrangements by Carlson-Lillemoen Funeral Home and Cremation Services of Cambridge.