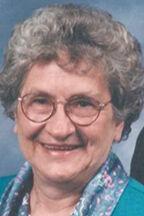 Frances (Krzyzanowski) Callin, age 91 of Cambridge, Minnesota passed away peacefully on May 4, 2023 at Grace Point Crossing.
Frances was born Feb. 16, 1932 in Drayton, North Dakota to Alex and Bebeanna Krzyzanowski, being the third child of nine.
When Frances was 9 years old, her family moved to Cambridge, Minnesota. She attended and graduated from Cambridge High School in 1950. On Feb. 14, 1953 Frances married Virgil H. Callin. They welcomed three children to complete their family. They enjoyed spending time with family and friends. Fran always said that family is the best thing that you have. Fran and Virgil liked to travel and traveled to 48 states by car together. They did not go to Hawaii or Alaska. Fran enjoyed "word find" books, reading and photography; taking many memorable pictures that we all enjoy. Frances worked at Honeywell and later at Control Data, where she made life-long friends.
Frances is survived by her son, Virgil L. (Sue) Callin of Isanti; son-in-law, Tom Schibilla of Cambridge; daughter, Sue (Tim) Sjodin of Isanti; brother, Louie Krzyzanowski of Isanti; grandchildren, Tommy (Kerri) Schibilla, Sara Callin, Blake (Ashley) Sjodin, Christopher Sjodin; 5 great-grandchildren and two great-great grandchildren, nieces and nephews and friends. She is preceded in death by her parents; husband, Virgil H. Callin; daughter, Nancy Schibilla; granddaughter, Carrie Callin and seven siblings.
A Memorial Service will be held at 11 a.m. Saturday, May 13 at Strike Life Tributes in Isanti with a with a visitation one hour prior to the service. Online condolences can be made at StrikeLifeTributes.com.