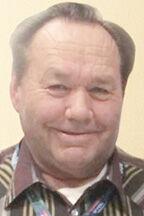 Gary F. Fix, of Braham, passed away on Friday, April 7, 2023 at his home. He was 74 years old.
Gary Francis was born on Feb. 16, 1949 in Litchfield, Minnesota to parents Franklin and Blanch (Tibbedeaux) Fix. He grew up in Spring Valley, MN until he was 12 years old when the family moved to a farm near Braham. Gary graduated from Braham High School in 1967. He attended Pine Technical College where he received his mechanic's training. He worked as an auto mechanic for Tinker's in Mora, Fredlund's in Cambridge, and ran his own mechanic shop at Pearl Harbor by Braham.
On Aug. 3, 1974, Gary was united in marriage to Darlene C. Hansen at the Catholic Church in Sauk Center. They made their home in the Braham area and were blessed with four children, Dallas, Douglas, Ginger, and Gayle.
In 1979, Gary took a job as the head mechanic for ECE in Braham. He left that job in 1989 when he purchased a Novus Glass franchise. He started and ran the business from his home near Braham but eventually moved to a larger shop in Mora in 2000. Gary was awarded Franchise of the Year several times and served on the Novus National Board. In 2010, Gary's children Douglas, Ginger, and Gayle took over the business with his continued guidance over the next five years before he fully retired.
Gary enjoyed traveling, including many fishing trips to Canada and visiting family and friends in Arizona. He was a founding member of the Sts. Peter & Paul Catholic Church in Braham and a member of the Knights of Columbus. His greatest passion was collecting and fixing cars, trucks, tractors, and motorcycles. He passed this love and his vast knowledge of mechanics on to his children and their friends. Gary loved his family dearly and will be greatly missed.
Gary is preceded in death by his parents, son Dallas, sisters-in-law, AnneMarie Fix and Gayle Hansen.
He is survived by his wife Darlene; children, Douglas Fix (Angela Baker), Ginger (Corey) Owens, and Gayle (Rob) Linkert; grandchildren, Michael, Dallas, Amber, Mya, Payton, Paige, and Paisley; siblings, Donnie Fix, Carol (Dale) Gagner, and Rita (Steve) Rogers; sisters and brothers-in-law, Cheryl (Jim) Coderre, Danny (Jess) Hansen, and Carla (Scott) Bauer; many other relatives and friends.
A Funeral Service was held on Wednesday, April 19, 2023 at Sts. Peter & Paul Catholic Church in Braham. Interment will be in the Sts. Peter & Paul Catholic Cemetery. Arrangements were entrusted to the Hamilton Funeral Homes- Rock Chapel in Braham. Condolences may be posted at www.hamiltonfhs.com.