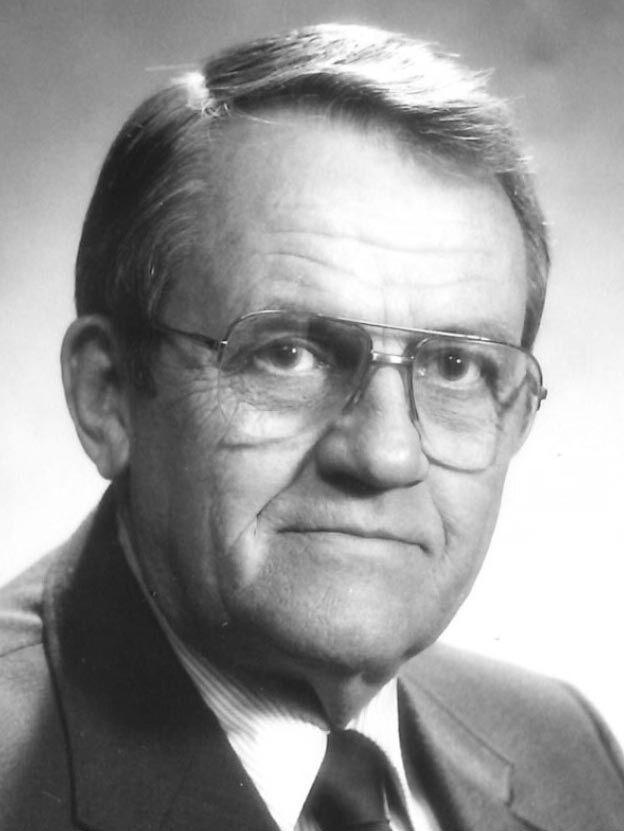 George Ingvald Larson, 89, of Cambridge, passed away peacefully on April 29, 2022, in his home surrounded by family.
George was born July 12, 1932, to Edward and Alma Larson on a small family farm in Bryant, South Dakota. The youngest of six children, he was given the nickname Peewee by his siblings. However, learning to drive a tractor at the age of 7, he quickly outgrew his nickname and became a big asset to his dad on the farm. George attended a one room schoolhouse through the eighth grade. In high school, he discovered his love for sports, playing basketball and six-man football. After George graduated from Bryant High School in 1950, he enlisted in the Army during the Korean war and was stationed in Alaska for two years.
When George returned to Bryant after his service, he had every intention of following in his father's footsteps and go into farming. On a whim, he tagged along with his cousin to Northern State in Aberdeen, South Dakota. While his cousin was registering for classes, George watched the football team having fall practice. The head coach saw George and approached him on the sidelines. After a long conversation and some soul-searching, George decided to go to college (instead of farming), get his degree in education, and play football.
It was at Northern that George met the love of his life, Joyce, and they were married in the summer of 1955. After George graduated in 1956, they moved to Jeffers, MN, where he taught science and physical education, and coached football and track. After only George's second season coaching, Jeffers won the Red Rock Conference Football Title.
In 1958, George was hired by the Cambridge-Isanti School District to teach and coach football, eventually becoming athletic director. It was in Cambridge, that George and Joyce lovingly raised their four children. 
George coached for 38 years, winning twenty-five conference championships and three state championships in 1986, 1987, and 2000. Twice, he was named Minnesota Football Coach of the Year in 1971 and 1986. George held memberships in the following Hall of Fames: Bluejacket, Minnesota Football Coaches, Minnesota Athletic Directors and the Minnesota High School League. In 2018, he won the John Gagliardi Legacy Award. He believed that his wife, Joyce, and her support, was the biggest reason for his success. She only missed attending two games out of the 379 that George coached. 
George said of his football career, "I enjoyed coaching the greatest game in the world, played by the greatest kids, and coached by the greatest group of guys!"
After retiring as athletic director, George continued to support his community. He was elected Isanti County Commissioner in 1992 and served for 22 years. George was especially proud of his work on the Heartland Express and the expansion of the park system in Isanti County.
George loved spending time with his children, grandchildren and great- grandchildren. For many years, an annual favorite vacation for George and Joyce was taking everyone up north to Cass Lake for a week of fishing, swimming, and lots of smores. During family gatherings, he liked to share stories about what his life was like as a child growing up on the farm. 
George was an outdoor enthusiast, being an avid turkey hunter and ice fisherman. He also enjoyed playing cards with friends and family. He was a big fan of Vikings and Gopher football, and the Twins.
George was preceded in death by his parents Edward and Alma; siblings, Ione, Lee, Lola, Ed, and Edna. 
He is survived by Joyce, his loving wife of 66 years; his children Ed Larson, Bill (Sandy) Larson, Lori (Steve) Morin, and Richard Larson; 11 grandchildren and 16 great-grandchildren.
In lieu of a service, a celebration of life will be scheduled at a later date. Condolences at www.carlsonlillemoen.com. Arrangements by Carlson-Lillemoen Funeral Home and Cremation Services of Cambridge.