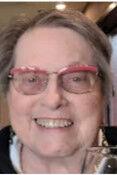 Jo Anne King ,78, passed away on Tuesday, Dec. 20, 2022, surrounded by her family at Elim Wellspring Health Care in Princeton, MN.
Jo was born on March 16, 1944, in Traverse City, MI. to Clark and Betty (Cram) Jarmer. She was the oldest of three children. In 1964 she was married to Thomas Cardinal and they later moved to MN.
In 1970 their daughter Katherine was welcomed home. They were married until 1980.
Jo met Richard King when he came in for lunch at the little place she owned, the Moon plaza café just next door to his business. After some more lunches and Richard helping repaint the café, love blossomed and they were married in October of 1989. Jo gained another daughter and four grandchildren and six great grandchildren through this union.
She loved gardening, knitting and crafting and enjoyed going along to the 'Sip and Paint' for a fun night with friends and family. She loved bringing her family to dinner theaters for Christmas, she loved her pets, she gave endlessly and had a laugh you could hear across the room!
Jo will be deeply missed by those that survive her: daughters, Katherine Cardinal and Cindy (Rob) Erickson; grandchildren, Melissa Mason, Brandon (Abby) DeWitt, Angeline Erickson and Michele Erickson; great-grandchildren, Marshall, Ben, Zack, Parker, Jada and Levi and many nephews, nieces and friends. She is preceded in death by her parents, Clark and Betty; her sister, Jan and brother, Jim.
The Memorial service will be held at Cambridge Lutheran Church in Cambridge, MN on
Feb. 4, 2023. Visitation will be at 11:30 a.m. and the service will start at 12:30 p.m. with a lunch following the service. Online condolences can be made at StrikeLifeTributes.com.