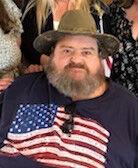 Kenneth "Buns" Bendiske, 70, of Cambridge passed away unexpectedly Nov. 20, 2022, at home.
Kenneth Paul Bendiske was born June 30, 1952, in Fort Rucker, Alabama to Richard and Alice (Hoff) Bendiske. A year later their family moved to Bethel, Minnesota where he grew up. Kenny graduated from St. Francis High School in 1972. On Jan. 17, 1981, he married Linda Lick and they raised their two sons in Cambridge. 
Kenny worked as a mason and then at the Cambridge State Hospital, retiring in 2007. He enjoyed hunting, fishing, going to auctions and flea markets and spending time with his grandchildren. Also that he enjoyed riding his motorcycle in his younger days. Kenny always had a blast playing practical jokes on family and friends.
He was preceded in death by his parents, Richard and Alice Bendiske.
Kenny is survived by his loving wife, Linda; sons, Derrick and Seth; grandchildren, Logan Bendiske and Madison Emerson; sisters, Linda Olson, Sue Rihs and Stephanie Bendiske-Gullion; and by many other relatives and friends. 
A Celebration of Life Gathering will be held from 5 to 7 p.m. Friday, Dec. 2 at Strike Life Tributes in Cambridge. Online condolences can be made at StrikeLifeTributes.com.