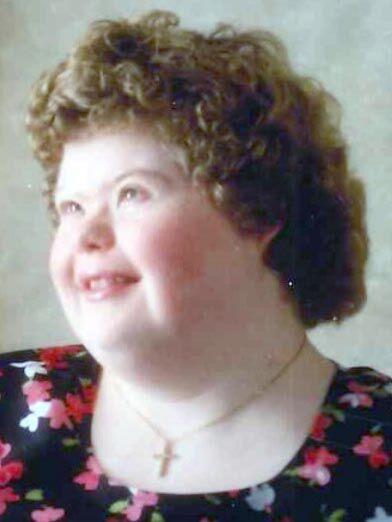 Mary Elizabeth Johnson went to be with the Lord on Nov. 21, 2021, at the age of 46.
Mary was born on May 13, 1975, in Alexandria, to Rev. Wendell and Laurel Johnson and was welcomed home by her four big brothers. She was lovingly cared for by her parents throughout her whole life.
 She grew up in several communities including Dalton, Stacy, Spicer and back home to Cambridge.
Mary graduated from Cambridge High School in 1995. After high school Mary worked for Industries Inc. Then she went to work at McDonalds for 20 years. She was very dedicated to her job, always doing her best. Mary enjoyed bowling and watching her brothers at sporting events.
Mary's pure heart was filled with love for her Lord and her family and friends. Her laughter, many hugs and smiles were gifts to us all. She loved music. Mary's dream of making her own CD, "Mary's Melodies," came true and has been a blessing to many. Mary often shared her testimony of love for the Lord through word and song, inspiring many with her childlike faith. 
Mary moved to The Estates in Rush City in August of 2017.  She enjoyed participating in activities there, especially musical programs as long as she was able. She was loved and well cared for at The Estates.
Mary was preceded in death by her grandparents; her brother Joel; cousin Adam; and many other relatives. Mary is survived by her parents, Laurel and Wendell; her brothers, Paul, Karl (Heather), and Mark (Sara); sister-in-law, Lisa; 16 nieces and nephews; many aunts and uncles; cousins; and other relatives and friends. She will be dearly missed.
We are grateful for the wonderful people at The Estates and St. Croix Hospice for all the loving care and support they provided for our dear daughter Mary. Thank you to her teachers, caregivers and to the many who cared for her during her earthly journey.      
Funeral Services were held at 11 a.m. on Wednesday, Nov. 24, 2021, at Salem Lutheran Church in Dalbo. Visitation was one hour prior to the service. Memorials are preferred. Condolences at www.carlsonlillemoen.com. Arrangements by Carlson-Lillemoen Funeral Home and Cremation Services of Cambridge.