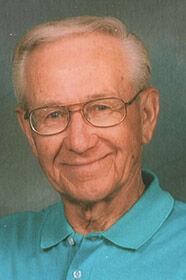 Toivo Tapio Setala of Cambridge passed away peacefully at home on April 1, 2023, at the age of 95. He was born at home in Stoney Brook Township, MN to parents Frank and Martha Setala. When he was two years old his family moved back to Finland so his father could work as a logger in Russia. When Toivo was five, after the depression ended his family came back to the U.S and made a home in Brookston, MN. 
Toivo graduated as valedictorian from his high school class. After high school he was drafted into the Army and served during World War II. Following his service in the Army, Toivo worked as a signalman for Great Northern and then later Burlington Northern. 
He met his wife Janice while working on the railway and stopping in for coffee at Charlottes Cafe in Carlton where she worked. They married on June 24, 1950.  They were married for 63 years and had two children Martha and John. They made their first home in Carlton and shortly after they moved to Hibbing where they would live for three years. They then moved to Foxboro, Wisconsin for a year-and-a-half before moving to Kindred, North Dakota where they would live for five years. 
In 1960 they moved to Isanti and then in 1978 they moved to Skogman Lake in rural Cambridge. After retirement they bought a seasonal home in Mission, TX where they stayed during the winter. 
Toivo enjoyed skiing at Big Mountain in Whitefish MT. over the years, golfing in Texas in the winters, woodworking and projects around home. 
Toivo was a member of the American Legion. In 2018 he participated in Freedom Honor Flight, a tribute to Veterans that flies them to Washington D.C to visit memorials built in their honor. 
He is survived by son, John Setala of Nowthen; grandchildren, Matt Steinke, Phil (Kelly) Setala, Maggie (Joe) Hecht and Nina (John) Setala; great-grandchildren, McCoy, Alexander, Zackery, Maverick, Olivia and Connor. He is preceded in death by parents, Frank and Martha Setala; wife, Janice Setala; daughter, Martha Steinke; daughter-in-law, Jennifer Setala; brother, Wilho Setala and sister, Anja Lanhart. 
Memorial services will be held Friday April 21, 2023 at 11 a.m. with visitation one hour prior at Thurston-DeShaw Funeral Home, 13817 Jay Street NW, Andover, 763-767-7373. Interment at Union Cemetery in Cambridge.