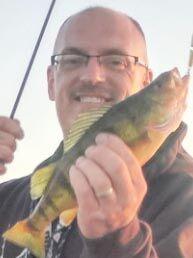 Wesley "Wes" Frank Erbstoesser, died on May 9, 2022, in Braham. He was 44 years old. 
Wes was born in Mora on July 30, 1977, to Gail (Mattson) and Carl Erbstoesser. Wes had one older brother, Christopher Erbstoesser. 
Growing up in Braham, Wes spent a lot of time on the farm with his grandparents Les and Ann Mattson and learned to fish from his grandpa Les. Wes enjoyed playing video games; his favorites were Zelda and Sonic. Like most boys, he enjoyed riding wheelers, dirt bikes and getting into the mud. Wes attended Braham Schools and later received his GED. 
Wes met Teresa (White) through friends, and the two began dating in June of 1994. They dated for many years and were joined in marriage on Dec. 20, 2003. They were hometown sweethearts and made their home on Wes' uncles' farm west of Braham. They were blessed with three children, Kayla White, Logan White and Zacharia Erbstoesser. 
Wes loved the outdoors. Wes loved fishing and invited many people to go fishing with him, whether it was in the boat, on the shore or in a fish house.  Of the many lakes in Minnesota, Cass Lake was his favorite. He had many fond memories of fishing there with many special people in his life. Alongside fishing, he also enjoyed hunting and archery. Wes also loved to spend time with family, especially his granddaughter, Payton Jean. 
Wes was a "Jack of All Trades" but a master when it came to anything automotive. Throughout his life he had numerous jobs including Pallet Racking; Shel's ProString; Bert's Auto Body; Jay's Body and Paint; and Premier Auto Body. Wes was an entrepreneur and owned three different businesses, ProString Archery; Twisted Stick Custom Rods; and EZ Repair. Wes had a way of tying jobs and hobbies together and was always able to find the joy in work. 
Wes was baptized and confirmed at Braham Covenant Church, and he continued to go there for many years after. Wes had a strong faith. God was at the center of Wes's beliefs, and he was not shy to share his love for the Lord. He wanted everyone to know that God loves them, and he lived his life spreading God's word in any way that he could. 
Wes was a selfless man, a caring man, continuously seeing the positives in people. He was always willing to go out of his way to help, even if all he could do was put a smile on your face. Wes was a friend, brother, son, husband, father, and grandfather. 
He will be missed by many. 
Wes was preceded in death by his grandparents; father Carl; and mother-in-law Sandy White.
Wes is survived by his wife Teresa; children, Kayla, Logan, and Zacharia; granddaughter Payton; brother, Christopher; uncle Arnold (Janice);  father-in-law Steve White; brothers and sisters-in-law, Tammy (Kenny) Ceaglske, Tim White, Tracy (Karl) Fix, and Trevor (Steph) White; nieces and nephews, Briana, Ashley, Desi, Emma, Lucy, Elizabeth, Luke Adam, Ben and Addy; and many other relatives and friends. 
A Memorial Service will be held at 11 a.m. on Saturday, May 28, 2022, at the Braham Moose Lodge. Pastor Steve Jennisch will officiate. Memorial Visitation will be held one hour prior to the service at the church. Inurnment will be in the Braham Mission Covenant Cemetery. Arrangements are by the Rock Ingebrand Funeral Home in Braham. Condolences may be posted at www.aifuneralhome.com.