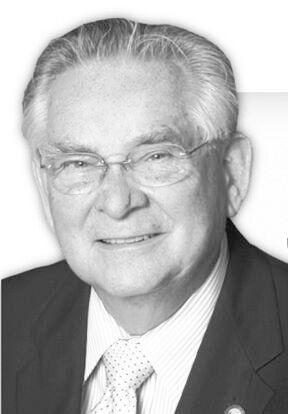 I'VE BEEN TRYING to wrap my arms around the American holiday of Thanksgiving. We have so much to be thankful for: our nation's freedoms, a free enterprise system, law and order, advanced medical care, and the list goes on and on.
We are privileged to be living on the Earth within the Universe that God has created. The earth has an amazing ability to adapt and regenerate. The earth provides energy, food, and habitat which are all renewable and available in seasons.
I continue to be thankful for the Jews who have preserved God's revelation in His words to us. Further, I'm thankful to the Catholics and their 14 Apocalyptic books. I'm thankful for the New Testament along with numerous spiritual letters.
Another amazing gift from God that I'm thankful for is sending His Son, Jesus, to come into the world as a human and to die for us on the cross that we might have resurrection and a new life.
These gifts were provided through faith and all we have to do is believe and accept. We can't buy or work our way to eternal life.
Through faith we've been given grace and forgiveness through our Lord Jesus Christ.
At your Thanksgiving table this year, think about some prayers or Bible verses which will reiterate and renew your faith in God. Verses could be read, such as: "Give thanks to the Lord, for he is good; his love endures forever," 1 Chronicles 16:34.  "I always thank my God for you because of his grace given you in Christ Jesus." 1 Corinthians 1:4. "Rejoice always, pray continually, give thanks in all circumstances; for this is God's will for you in Christ Jesus," 1 Thessalonians 5:16-18.
Some families enjoy singing together. The following hymns may be meaningful suggestions: "To God be the Glory" and "Amazing Grace." The first verses of those two hymns follow:
"To God be the glory" by Fred Bock/Fanny Crosby/William Doane
To God be the glory
Great things He has done
So loved He the world that He gave us His Son
Who yielded His life an atonement for sin
And opened the life-gate that all may go in
Praise the Lord, praise the Lord
Let the earth hear His voice
Praise the Lord, praise the Lord
Let the people rejoice
Come to the Father
Through Jesus the Son
Give Him the glory
Great things He has one
"Amazing Grace" by John Newton
Amazing grace
How sweet the sound
That saved a wretch like me
I once was lost, but now I'm found
Was blind, but now I see
"Do all the good you can, by all the means you can, in all the ways you can, in all the places you can, at all the times you can, to all the people you can, as long as ever you can." — John Wesley
GENE JOHNSONis Publisher Emeritus of Press Publications, owner of the Isanti-Chisago County Star. He can be reached at ppinfo@presspubs.com.