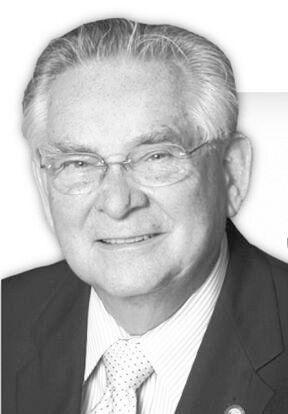 LIVING IN MINNESOTA where we have four seasons, spring brings about long lists of projects, home maintenance, gardening, and recreational toys that need service. With Covid-19 subsiding, people are recognizing they need some catch-up with their medical services, too.
Some doctors and clinics today provide patients with the option of Zoom or phone contact.
I don't know what your community is like this spring, but our streets and sidewalks are clean, yards have been raked, trees are budding, tulips are blooming and docks are going in rapidly. It's a wonderful time of year when so much of nature comes to life.
IT WAS GOOD news to learn that Minnesota was able to keep its eight Congressional seats based on the 2020 census. Our population in Minnesota is now 5,709,752. Minnesota hasn't grown much in the last ten years, but fortunately we retain our eight seats in Congress and the Electoral College.
Some political boundaries still need to be redrawn, and the legislature will have a difficult time agreeing on the process.
The Minnesota legislature also needs to take into consideration the senior population and the high state income tax. For many it's desirable to change their residency to where they spend their winters. There are some states that have reduced the income tax percentage for those who are seniors. It might be worth taking another look at the loss of revenue by holding the tax rate too high.
IT TAKES COURAGE not to be discouraged.
AS I REFLECT on the economic stress and anxiety caused by Covid-19 on the small business community, I appreciate our Senator Amy Klobuchar for her strong support on the Payroll Protection Program. Small business provides the majority of employment in the United States and many small businesses were hurt severely during the pandemic, and some toppled over. The hospitality industry was hit particularly hard and there are still programs in the works to put them on their feet or bring them back. It's been an unusual year. We're still learning and there are a lot of jobs available for those who want to work or are not discouraged by government assistance.
Some businesses have increased sales, such as hearing aid clinics. Masks have prevented people from reading lips so they turn to getting hearing tests and purchasing the instruments to help.
 WHATEVER PROJECT YOU take on, leave it better than you found it, whether at work or at home, and teach your children to seek improvement.
EXAMINE YOURSELF
If you want to know where you're really at as a Christian, listen to your words, even more so, your thoughts.
The tongue reveals the true feelings of our heart:
Harsh words . . . . . . Angry heart
Negative words . . . . . . Fearful heart
Talk a lot . . . . . . . Unsettled heart
Critical words . . . . . . Bitter heart
Filthy words . . . . . . Impure heart
Boasting words . . . . . . Insecure heart
Encouraging words . . .Happy heart
Gentle words . . . . . . Tender heart
Kind words . . . . . . Loving heart
Truthful speech . . . . . . Honest heart
Set a guard, O Lord, over my mouth; keep watch over the door of my lips. Psalm 141:3
THE LANDSCAPE ARBORETUM in Chanhassen last fall planted 39,000 tulip bulbs. Visitors are finding the colors fantastic. The grounds are open from 8 a.m. to 8 p.m. daily. All members and visitors, including children, must make a reservation online and present their tickets at the gatehouse to enter the grounds. They are not selling tickets or making reservations anywhere on site. You are asked to arrive within your 30‑minute entry window, but there is no limit on the duration of your visit while the grounds are open. Go to arb.umn.edu or call 612-624-2200.
GENE JOHNSONis Publisher Emeritus of Press Publications, owner of the Isanti-Chisago County Star. He can be reached at ppinfo@presspubs.com.